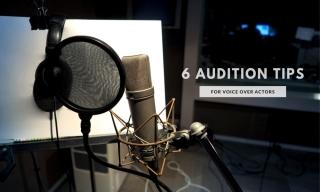 6 Audition Tips for Voice Over Actors
Every time you get ready for another audition, you can probably feel the pressure. From the casting team you perform for to the countless other actors vying for the role, it takes some work to impress everyone and land the part. Whether you're just getting into the industry or you're a seasoned voice actor who wants to improve, we provide some essential audition tips for voice over actors.
Learn the Part
Always do your research. This will help you understand and personalize the role, as well as limit any mistakes in the audition. Take time to look up the company and the director. Showing your interest in the role on a deeper level will catch a casting director's attention.
Be on Time
Punctuality is professional, and arriving early gives you the chance to carefully prepare. Showing up 10 to 15 minutes early allows you to look over the script, and you can work through any last-minute surprises or nerves.
Make It Yours
With a constantly increasing demand for animation, video game, and commercial voice over services, the jobs you audition for are bound to have a lot of competition. An authentic and personal take on the role will make you and your audition stand out.
Take Direction
While talent may contribute to your success, casting directors also look for someone they can work with easily. It's important to follow any directions you get in the audition room. If you can creatively interpret the specific characteristics the director wants, you will shine in the part.
Don't Show Nerves
Everyone knows auditioning can be a nerve-racking process, but it's important to keep your cool. If you act confident, the casting director will believe it. Remember to stay positive as well. Don't get down on yourself, even if you think you didn't do well. Staying calm and assured will make you seem much more professional, which means more directors will want to work with you.
Hone Your Skills
One of the biggest audition tips for voice over actors carries outside of each performance—keep practicing. Learn how to analyze a script, and take direction. Similarly, pay attention to your own strengths and weaknesses, so you can constantly improve your craft. Keep up with your acting skills, whether it's on a stage or in front of a camera, and use those skills during your audition. Even though it's a voice over, using physical acting can help you get into the role and show off your well-rounded talent.