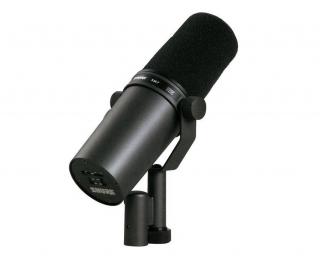 A Good Home Studio Mic
There are plenty of affordable studio microphones available. One of the most popular is the Shure SM7. Used by many professional recording artists such as Foo Fighters, Adele and Lana Del Rey (to name a few) but is a top choice for voice over artists as well.
It has a warm sound and is easy to use in any room to get a consistent sound without a lot of set up. The Shure SM7 has the ability to give you a big studio sound even if you are recording your vocal tracks in the back of a tour bus. It also requires little or no extra equipment to make it sound great.
For just under $400 this microphone is a great choice for voice over.


picture courtesy shure.com