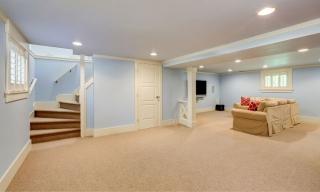 Best Recording Spaces in Your Home
Your recording space plays a huge role in the work you create. For many voice over actors—especially those just starting their career—a home studio is the best way to record, edit, and produce audio. Getting professional-quality sound out of an amateur studio can be tricky. Fortunately, if you know what to look for and where to begin, you can create the best recording set-up possible. To help you out, here's our guide to finding the best recording spaces in your home.
What to Look For
Before you choose the perfect recording space, you need to know exactly what you're looking for in a room. The most obvious advice is to find a quiet place. Sounds of traffic, weather, plumbing, or your neighbors or family members can easily ruin your recording, so be sure to choose a location that is away from major sources of noise. You should also look for a room with good acoustics. This means high ceilings, lots of space, hard flooring, and irregular surfaces. Of course, it's almost impossible to meet all these requirements in a single room in your home. That's why it's important to try out a few different spaces and see what works and sounds best.
With all of these things in mind, let's take a look at some ideas for the best recording spaces in your home.
Basement
Hard walls and a lack of outside noise make the basement an ideal recording space. Basements are also often larger spaces, meaning you can store all your equipment and software in the same place that you record. If you have an unfinished basement, you also have the opportunity to expand and customize the space down the road, creating an even more ideal room for a home recording studio.
Attic
Attics often have asymmetric walls, which make for great acoustics. Like basements, they are also well-insulated and away from a lot of outside noise—perfect for a recording space. However, unlike basements, they're less likely to suffer from dampness or water damage. If you have a decent-sized attic, you can convert it into an ideal personal recording studio.
Walk-in Closet
Large rooms or extra spaces aren't a reality for every home. Fortunately, there are a few alternatives that can still work well as recording spaces. A roomy closet provides a decent space away from outside noise, and the clothes or bedding stored there work well as insulation.
Once you have the perfect set up in your home, it's time to figure out what to do with the work you recorded. Internet Jock is the perfect place to house your demos. We help clients find the perfect female or male voice over artist for their projects, bringing you that much closer to your next dream role.