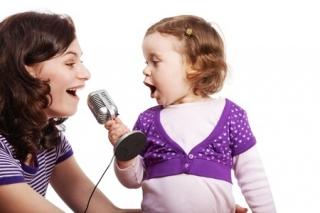 Child voice actors, the fruit does not fall far from the tree!
Qualified child voice actors who work online can be hard to find. They must have access to a professional home studio, so usually they are the kids of other voice actors working in the business. We spoke to a couple of these kids who work for Internetjock and asked them how they got started.
Nicole's resume includes: animation videos, commercials for cars, mattresses, restaurants, play houses, politicians, and longer narrations forElearning. Not bad for an 11 year old voice talent!
I asked her Mom, InternetJock Dana how she became a vo talent, and she shared a bit about how Nicole got started.
"Lots of little kids drift off at bedtime hearing their Mother's voice, but for Nicole it was a bit different, since she was listening to me working nights at KINK radio in Portland, Oregon.
"At Nicole's pre-school graduation, she shocked us all with a solo recital of Jack and Jill. Her performance partner was a no-show that day, and Nicole stood confidently, age 4, before a large crowd of parents and siblings, speaking clearly and loudly, delivering the entire rhyme, perfectly. Apparently she knew "the show must go on!"
"Soon after she began taking Children's Theater classes. She fell in love with the process and took notes watching me record voiceovers in our home studio. She officially began voicing professionally a little over a year ago at age 10. Sometimes it can get hectic with homework and outside activities, but as long as she loves it, and treats it professionally, she will continue to be a part time VO talent."
We got a little different perspective from Erin, a 19 year old college student who has been doing voice work since she was five.
She is now 19 years old and a Theatre and Media Communications double major at Muhlenberg College in Allentown, PA.  Erin's Mom Bonnie also works with InternetJock, and her dad is a broadcast engineer for NBC, so voiceover work is definitely in her genetics! Erin grew up in a house with a state of the art sound studio, and learned the tools of the trade from both parents.   
"Balancing VO work with college has definitely been a challenge to say the least. Up until now it was pretty simple because I could work from the family home studio after school.
"Location can be an issue, but I only work during quiet off hours in my dorm, and have fashioned a pretty slick "studio tent" that keeps out any excess noise. Turning of the fridge and any other "whirring electronics" helps as well!  I have found that I need a longer turnaround time so I definitely get less work, but for the jobs I do get, I have the time to put my best effort into them.
 
"There have been times when my parents and I have been concerned about my gig because of school but we always come to the same decision: no matter how busy college life might get, voiceovers are an enjoyable job that can be worked into the schedule.  It is great experience and I am very blessed to have had the opportunity to work professionally in the business from such a young age."
Thanks to both Erin and Nicole for participating. Any other kids, or parents of young talent care to share how they got their start?
JulieRae MacLeod Sales and Marketing Director @ InternetJock