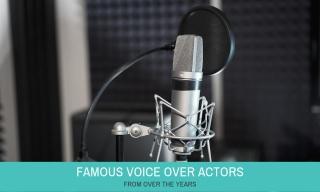 Famous Voice Over Actors from Over the Years
Not usually as well-known as on-screen actors, voice over actors can carve out successful careers that last much longer than the typical Hollywood star. When a voice actor is good, they'll find plenty of work; however, when they're great, there is no end in sight to the opportunities available to them.
Many of us have become so accustomed to the voices we hear on cartoons, animated movies, and video games that we're able to instantly recognize them. These voice actors use their talent to bring our favorite characters to life. Although famous voice actors take on many roles and appear in many forms, they're not nameless. Learn about some of the most famous voice actors in the business.  
H. Jon Benjamin
For the last decade, no voice over actor has been hotter than H. Jon Benjamin. His distinctive baritone voice and deadpan comedy style make him one of the funniest voice over actors to date. Early in his career, Jon teamed up with legendary comic David Cross on several projects. He voiced Ben on Dr. Katz and the Professional Therapist and Coach McGurk on Home Movies—these roles would jump-start his voice over career. Currently, he is the voice for super-spy Sterling Archer in the FX cartoon Archer—an arrogant alcoholic with mommy issues that always manages to save the day. At the same time, Benjamin plays the lovable Bob Belcher from Bob's Burgers—a struggling restaurateur with a wife and three kids. The disparity between the two characters is stark, but Benjamin is versatile enough to give each character their own distinct personality. Further, he has recently taken a role in front of the camera as the Arby's Head of Sandwiches pitchman.
Dan Castellaneta
Easily the most recognizable voice in pop culture for the last 30 years as the voice of Homer Simpson, Dan Castellaneta has enjoyed a long career. Raised in the Chicago suburb Oak Park, Castellaneta's mother put him in acting classes at age 16 when she noticed his talent for impersonations. This led him to attend Northern Illinois University where he would study to be an art teacher. While there, he did a radio show that helped him hone his voice over skills. After college, he worked at Second City in Chicago and impressed Tracy Ullman so much that she gave a role on her Fox series. The show, created by Matt Groening, was about a dysfunctional cartoon family—The Simpsons. Along with Homer, Dan voices other characters, including Krusty the Clown, Groundskeeper Willie, and Barney Gumble. Dan has parlayed that success into a long career in voice over acting. Further, he has had on-screen roles in dozens of movies and television series. This includes spots on Married with Children, The Office, That 70's Show, Reno 911, and The Mindy Project.
June Foray
Born in Springfield, Missouri, in 1917, the "Cartoon Queen" was perfecting her old lady voices by the age of twelve for local radio programs. As a young student, June was fortunate that her speech teacher had a local radio program. She added June to the cast at a time when female voice overs weren't in demand and men still dominated the industry. Her success encouraged her family to move to California where June worked in radio from the 1930s to 1950s. During that time, she branched out and started doing voice work for cartoons. When she voiced Lucifer the cat in Walt Disney's Cinderella, June's stock began to rise. Soon thereafter she was doing voices for Warner Brothers' Merrie Melodies and Looney Tunes characters. However, because her costar Mel Blanc had an exclusive voice credit clause in his contract, she didn't get any credit for the work. However, Foray didn't let this stop her, and we still remember her for some of her most memorable roles. Her resume includes Cindy Lou Who in the original How the Grinch Stole Christmas, as well as Rocky the Flying Squirrel and Natasha Fatale in The Bullwinkle Show.
Mel Blanc
Over his 60-year career, Mel Blanc became "The Man of a Thousand Voices"—many consider him one of the most influential people in voice acting history. In his illustrious career, he voiced over 1,115 roles from 142 titles. Growing up, there was one specific moment that Mel remembered as a turning point. As a teen, he changed his name from Blank to Blanc after a teacher told him he would amount to nothing—like his name. But despite that comment, Mel was working in radio by age 19 and was also named the youngest orchestra conductor in the country. However, Blanc got his big break in 1936 when he joined Leon Schlesinger Productions—the company making cartoons for Warner Brothers. Once the opportunity to replace the actor who was voicing Porky Pig arose, the rest was history. He would go on to be the male voice for almost every major character for Warner Brothers' Looney Tunes. Mel was Bugs Bunny, Daffy Duck, Foghorn Leghorn, Yosemite Sam, Tweety Bird, Sylvester the Cat, and more. Additionally, he lent his talents to Hanna-Barbera cartoons and was the laugh for Woody Woodpecker and George Jetson's boss, Cosmo S. Spacely. Blanc was rare in his industry at the time because he was able to receive credit for his work. This was due to early negotiations he made—he turned down a raise and instead asked for his name to appear on the credits. This agreement would pay off, as his estate collects royalties on his work to this day.
Cree Summer
Cree was born in Los Angeles but spent most of her childhood living on the Red Pheasant Reserve in Saskatchewan, Canada. Her father was a Canadian actor and singer and an adopted member of the Plains Cree First Nations. As such, she didn't attend school until she was nine years old. However, despite a lack of education, she had a knowledge of the industry and an ear for talent. With help from her father, her acting career started when DiC Entertainment cast her as the voice of Penny—the niece of the bumbling Inspector Gadget in 1983. Her unique voice was easily recognizable to audiences and casting directors immediately started asking for her. She would later appear in The Care Bears Movie, and the Star Wars spin-off, Ewoks. Summer also found work on-screen; one of her most memorable roles was Freddie Brooks in The Cosby Show spin-off, A Different World. Once the show came to an end, she went back to voice over acting. Cree lends her talents to Elmyra Duffy, the overzealous pet lover in the Looney Tunesreboot as well as Susie Carmichael in the Nickelodeon series Rugrats. To date, she has over amassed over 386 roles from 202 titles.
If you're looking for the next big name in voice over acting, Internet Jock is home to a vast array of demos. These individuals lend their talents to cartoons, radio spots, and video games. Browse our professional voice over services today!