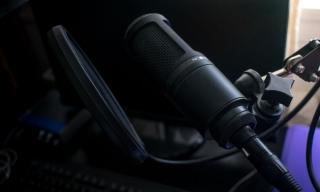 How to Grow in Your Voice Over Career
It takes a lot of work to break into the voice over industry, but the challenge doesn't stop there. The key to a lasting, successful career is to continuously improve yourself, your craft, and your business. This might mean constantly sprucing up your resume, creating outstanding relationships with clients and colleagues, or keeping an analytical eye on industry trends. If you're looking for the next step in pursuing your dreams, check out this guide for how to grow in your voice over career.
Career Plan
Every professional occupation needs a solid business plan. This doesn't have to be extremely fancy or even take you a long time—just write down your goals and figure out how to get there. Once you know what kind of work and salary you want, you can find the right steps to make it happen. Check out sample business plans online or talk to friends or other voice actors to get some insight. Summarizing your dream career on paper can be overwhelming, but once you have a clear, tangible idea of what you want, it becomes easier to turn that dream into a reality.
Boost Resume
Of course, voice over projects are the best way to create a killer portfolio. However, even when you aren't getting the work you'd like, there are still ways to make your credentials more attractive. Keep an eye out for nearby classes or workshops you can attend. You might even be able to take personal lessons with an experienced voice over coach. Not only will these things look good on your resume, but the new skills and advice you learn will help you continue to grow as an actor.
Keep an Eye on Trends
The voice over industry is constantly changing. From new stars or directors on the scene to different projects rising or falling in popularity, there's always something to learn. Has a new piece of recording equipment become the standard? Are female voice actors in more demand than men? Which voice over companies are getting the most attention? Pay attention to these and other industry trends so you can use them to your advantage.
Customer Service
One simple yet vital piece of advice for how to grow in your voice over career—or any career, for that matter—is to be professional. Every time you work with a client or a colleague, be polite, prompt, and positive. Practice great communication and follow up with people as soon as you can. Even little touches such as business cards and an organized email inbox can make all the difference. The better your professional relationships are, the more popular and successful you will be.