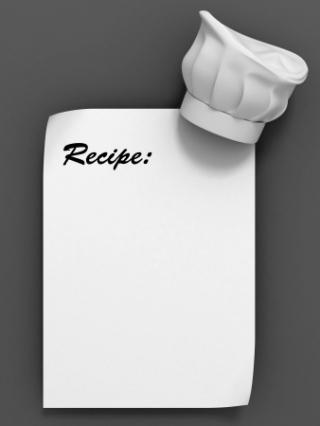 Recipe for an awesome Home Studio
With the holidays a lots of folks have recipes on the brain including Voice Coach Deb Munro. She is back with us to share her take on what she thinks are some of the best pieces of equipment for building or updating a quality in home recording studio. Check out her recipe for a delicious "Equipment Entree."
"This recipe must start with the following ingredients:
1 Cardiod Microphone with Shock mount and optional desk top adaptor.
1 Mixer
1 Software Editing Program
1 XLR cable (25 feet or more)
1 XLR cable (6-10 feet for travel)
1 Pair of Studio monitor Headphones
1 Modern computer/tablet with lots of room and a great sound card
1 Acoustically Correct Booth set up!
"To add your own flavor
1 Pair of Monitor Speakers
1 Headphone Extension Cable (25ft)1 Manhasset Script Stand
For a special touch  - feel free to sprinkle in:
1 Microphone Pre-Amp
1 Headphone Pre-Amp
1 Desktop Mic Stand
"There is a smorgasbord of options when it comes to purchasing home studio equipment.  You will hear varying options on most of it so finding the right options that suit your needs – is all that matters.   If you want to become a full time talent working from home, then this is a necessary part of the journey.   You don't have to be a tech junkie to make this happen – but it will require a bit of tech know how and aprox $1000.00 or more out of your pocket book. 
"Lets start with the Acoustic Treatment.  There are a lot of options out there.  Your best option (which is the most expensive) is to build or purchase an isolated booth.  If you're super handy you can save a ton – but the material you should use gets pricey.  If you are hoping to sound proof – not just treat the walls acoustically, you will want to purchase material like Sound Rock – or Quiet Rock drywall.  It's aprox $60.00 per sheet – and double thick.  You will also want to insulate the walls with something like ROCKSIL insulation.  This is high-end acoustic insulation; very popular now due to home theatre building etc. Once the booth is built you must also make sure to purchase Acoustic fabric to put on the walls of some kind.  There are many options here.  Auralex is popular, a bit pricey – but it looks fantastic.  I have lined all walls, my door and my roof with Auralex.  Remember the roof is extremely important and the floor must be carpeted.  You can also use Acoustic Moving Blankets – found at your local UHAUL store, or ceiling acoustic tiles from your local hardware stores.  So if you are voicing in a closet or a full open room, or building your own booth, the treatment of the walls is most important.  It will make or break your sound.  Just by listening to your file it is easy to hear whether you have a good booth set up or not. 
"The other options are portable booth set-ups.  You can find YouTube videos showing you how to build your own portable booth – easy and very cost effective.  You can also purchase booths created for us from companies such as PortaBooth or VoiceBoothPro (mention my name for a 10% discount with VOICEBOOTHPRO).  Both these booths are fantastic options – especially for those in small spaces, renting or looking for a travelling set up.  The only challenge I find with the smaller booths is knowing where to place yourself to pick up the best sound.  Voice into the booth too much and the sound is muffled or too contained,  but if you are too far away, the microphone picks up too much room tone.  So one must really know how to get the best sound from these options. 
"Moving on to the microphone, you will constantly hear the microphone needs to suit the talent – and this is 100% true.  It also needs to suit your recording environment.  Microphones have different pick up patterns.  They are very sensitive and can hear everything – so if you have a very small space or a port a booth – you don't want an overly sensitive mic.  My favorite when I'm using my portable booth is the Senheisser 416 shotgun.  This is my favorite mic and I HIGHLY recommend it – but it's not the cheapest mic.  For those of you just starting out, don't assume the more you pay the better you sound.  My most recommended microphone – FOR ANYONE starting out is the MXL 990 with Shock Mount from MusiciansFriend.com – it is SUPER cheap yet compares to some of the most expensive – so until you know your voice and have the money to spend – start with this mic – trust me on that one.  There are TONS of microphone options.  This is just my opinion, but I do NOT recommend USB mics.  I've yet to hear one without hiss – however they are advancing all the time. 
"The microphones we recommend most need phantom power are primarily called cardiod mics.  You will need an xlr (3 prong) cable to hook it up to your system.  Computers don't come equipped with XLR outlets so therefore you need a mixer.  This is another place that's hard to give you only one answer too.  Basically mixers are like a router (they serve more function than that – but that's really all you need it for) that allows an XLR out/input to be plugged into a computer.  They used to be primarily used to create effects to the sound – but that is done mostly through software now – so you don't need much – unless you are an engineer or in a band.  One of my favorite mixers is the Mic Port Pro by Centrance.  It is super small, allows for one microphone and a headphone – all a talent needs for the most part.  So I take this travelling with me wherever I go.  But if you need to hear your computer sounds through your mixer then you need something with a bit more functionality.  Again many options and they are all dependent on your needs. 
"The MBOX family of mixers come equipped with a software program called Pro Tools.  This is my favorite software-editing program, but it's also the most complex.  This is originally designed to compliment the MAC user, but they have made this compatible for both PC and Mac users.  Another fantastic program is Adobe Audition/Sound Booth.  This serves the same functionality as Pro Tools, it's both Mac and PC compatible and even easier to use.  There is also Twisted Wave.  This program is very popular.  It's not my preferred method of editing, but it's a very popular program and still highly recommended, especially for those doing audio books.  ALL of you should also have Audacity by Source Forge.  This is a free program and is fantastic to learn on for basic editing and great as a back up recording program.
"Other mixers will include other recording programs.  THERE ARE MANY, use what you're most comfortable with.  My main mixer at home is a large mixer called the ONYX 820i.  This is a Mackie board.  There is also the Apogee line of mixers.  I have mixed feelings on the Apogee.  Heard both good and bad.  There are MANY MANY more options, so look around and see what suits you best.   Remember though if it doesn't come with a software-editing program, you may be forced to purchase one – so make sure you purchase the right one.  These can be expensive.
"You will also need a stand to put your mic onto.  You will need what is called a BOOM ARM Mic stand.  This is necessary to hold your mic in a way that gives it proper support.  You can also use a desktop mic stand but you may need to make sure your microphone comes with a desktop adaptor, not just the shock mount.  The shock mount should come with your mic – if not you may need to purchase separately, but this is a necessary part of the package. 
"Beyond the booth, the mic and the mixer – you will need to purchase the XLR Cable – I highly recommend 25 feet or more and a smaller one if you travel.  A good cable makes all the difference so don't cheap out here.  You also MUST have Studio Monitor headphones.  You can't very well purchase all this equipment and listen to it through everyday speakers or headphones.  Most speakers and headphones are NOISE CANCELLING – you do not want to cancel out the unwanted noise – you need to hear it and whenever I send my final file out – I ALWAYS listen to it one last time with headphones – you can hear much more than with studio monitor speakers.  But this can start hurting your head if you have to wear them too long, so when you can afford to, purchase Studio Monitor Speakers.  (aprox $250-500 or more).  Then listen to your final playback through the headphones.  Sony, Senheisser, Fostex – so many brands.  All aprox $125-300 each.   Look for good sound, light-weight and good fit. 
"Once you have all of this I assume that you already have a computer/tablet to record into.  We are getting more advanced for the tablet – and it makes no noise, so this is becoming a fantastic option – however audio files are large so make sure you clean it up regularly and have an external hard drive to keep moving your files too.  If a computer gets too full, it starts acting up.    Computers – even Mac's make noise so this can be picked up in the recording.  If at all possible you need to be recording a fair distance away from your computer, so you will either need to read your scripts off of a monitor, tablet or phone or print off your scripts and read from paper.  If you print your scripts you will need some sort of script stand.  Other than small clips and portable stands, I ONLY recommend one kind – the MANHASSET.  
"There is so much more to tell you about equipment but this should get you started, I wish you the best of luck and success!"
What do you think are the best options for professional yet affordable equipment out there? We would love to hear your thoughts.
JulieRae MacLeod Sales and Marketing @ InternetJock