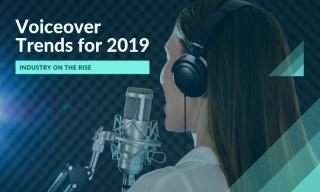 Voice Over Trends for 2019: An Industry on the Rise
It's always good to stay informed, to keep up on trends—especially those relating to your industry and profession. You want to know which way the wind is blowing and what employers, marketers, and consumers want. Voice over actors are in a good place right now; the market for their talents has never been hotter. Content creators, eLearning platforms, and animators need voice over actors to bring their scripts and characters to life. To make sure you're on the right track, take a look at the voice over trends for 2019.
Female Voices Are in Demand
The demand for female voices is starting to outpace the demand for male voice over talent. Historically, there has been more of a need for male voices in the entertainment industry. But recently, advertisers and marketing agencies are looking for a different way to make their pitch. For a change of pace, the industry is turning to female voice over actors. It's still important to note, however, that this doesn't mean one type of voice is not better than the other. Each voice over actor has different attributes that are better suited for certain situations.
eLearning Is on the Rise
Researchers are projecting that eLearning will be a $275 billion industry by 2022. As such, it would be wise for voice over actors to break into this market. Since 2015, eLearning has grown 7.5% annually, and there are a few reasons why it is on the rise. For one, the low cost needed to develop and record a course is hard to ignore. You only need a script, a recording device, and a voice to create an online class. Increased internet use and the shift toward flexible learning options make eLearning attractive. Adults looking to continue their education turn to this format more and more. Getting in now will give voice over talent a solid base to build a career on.
Freelance Economy Is Growing
Instead of turning to traditional advertising and marketing agencies, people are employing freelancers. Content creators are looking more and more to freelancers to record voice over spots. The trend towards freelance work acceptance fits in with the growing gig economy. A Gallup poll from 2018 reported that 36% of American workers are in the free market system otherwise known as the gig economy. This comes as good news for freelance voice over talent. Online sourcing services will likely continue to grow, and more work will be available. If things keep trending this way, supporting oneself as a freelance voice over actor will be attainable.
InternetJock is a leading online production company that helps connect clients to professional voice over talent. If our services align with your interests, reach out to our staff to see how we can help.